Obasa
LAGOS ASSEMBLY PASSES VICTIMS, WITNESS PROTECTION BILL
BY ALIMOTU SHADIA 
Members of the Lagos State House of Assembly on Thursday passed 'a bill for a law to provide for the rights and entitlements of victims and protection of witnesses and for connected purposes'.
The bill, which had earlier scaled a first and second reading, seeks to provide assistance and protection to victims and witnesses in possession of important information and facing potential risk of harm or intimidation due to their cooperation with the prosecution and other enforcement agencies.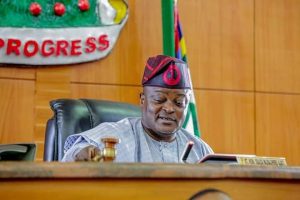 The bill was passed after the Speaker, Rt. Hon. (Dr.) Mudashiru Ajayi Obasa, and members of the House read it for the third time.
Speaker Obasa thereafter directed the Clerk of the House, Barr. Olalekan Onafeko to send a clean copy of the bill to the Governor, Mr. Babajide Sanwo-Olu, for his assent.