How Primate Ayodele Foretold Fire Outbreak In WAEC Office, Fuel Scarcity
ALIMOTU SHADIAT
The headquarters of West African Examination Council (WAEC), Yaba was gutted by fire this morning and had several people trapped in the building. It is not yet known if there are casualties but obviously, documents and properties worth millions of naira have been destroyed.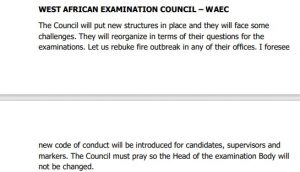 This is no doubt a sad situation that should never happen considering the sensitive documents in the building. However, this has been foretold by a popular Nigerian prophet, Primate Elijah Ayodele in his annual book of prophecy titled Warnings To The Nations which was released in July 2022.
Warnings to the nations is a prophecy booklet that talks about every country in the world and every sector of the country including education, sports, governance, economy, business, to mention a few.
While speaking on WAEC in the book, Primate Ayodele warned that the body should pray against fire outbreaks in any of their offices. Unfortunately, this has been fulfilled this morning.
Also, Nigerians are currently groaning in pain due to the sudden scarcity of fuel that hit the nation earlier this week. Petrol is now being sold for N200/ltr and above in stations that have it. Primate Ayodele had also warned Nigerians of this situation severally.
The most recent of his warnings concerning the fuel crisis was in August when he said the economy of Nigeria cannot be better again under this present government.
He mentioned that essential commodities will be costly and the fuel will sell for N250/Ltr because it will become scarce (https://pmnewsnigeria.com/2022/08/26/more-hardship-awaits-nigerians-army-will-go-on-strike-primate-ayodele/) .
This again has just been fulfilled as some petrol stations sell for N250/ltr just as Primate Ayodele warned.