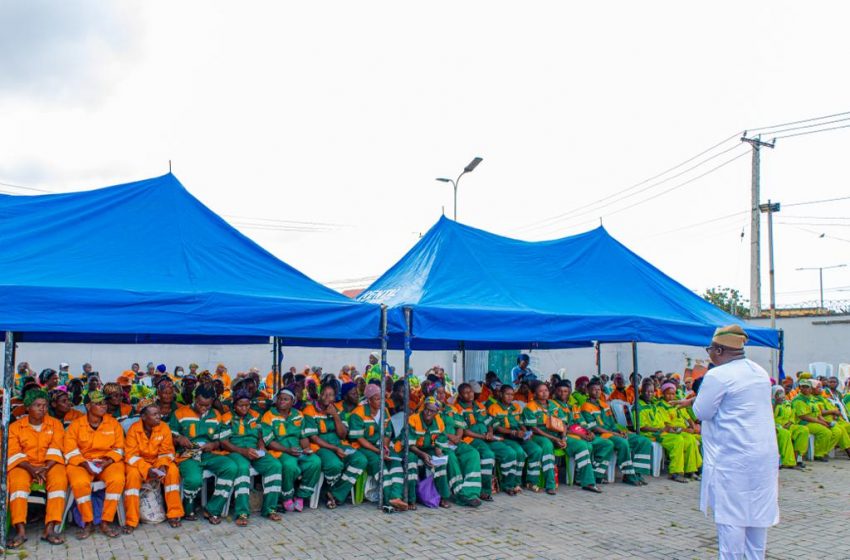 LAWMA ORGANISES MEDICAL CHECKS FOR SANITATION WORKERS
ALIMOTU SHADIAT
No fewer than 1000 sanitation workers (street sweepers) benefitted from the free medical screening, organised by the Lagos Waste Management Authority, (LAWMA), at the Authority's Transfer Loading Station, Simpson – Sura, Lagos Island.
In his opening remarks, the Managing Director/ CEO of LAWMA, Mr. Ibrahim Odumboni, emphasised the need for sweepers to take matters of their health seriously, hence the outreach and the health insurance for them.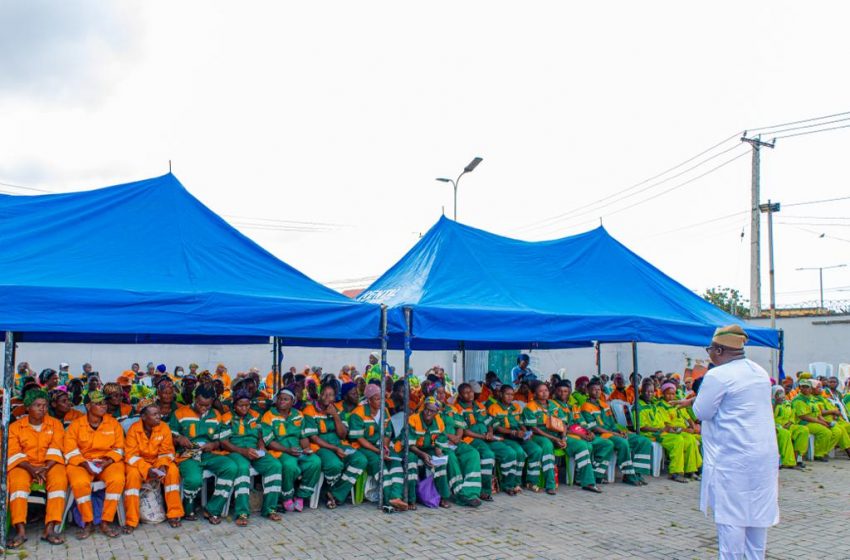 He reiterated that the sanitation workers, whom he tagged LAWMA heroes, working round the clock, remained the first point of contact, in the effort to keep Lagos clean.
He said: "You are our heroes and I do not want to lose any of you. We understand the nature of your job, we cannot afford to toy with your health, as many of you don't visit the hospital regularly for checkups. Therefore, today, the medical officers here will do your blood pressure, sugar level, urine test and so on.
"You will be given drugs based on your test results. The present administration appreciates your effort, and we will continue to do more of this, another one is coming up by December. Your health is important to us," he noted.
Odumboni urged the sweepers to continue to be diligent, and to be more vigilant, while discharging their duties, imploring them to place safety cones at visible spots, to protect them.
LAWMA's medical team lead, Dr. (Mrs.) Modupe Okoh, stressed that over 1000 sanitation workers from LAWMA's East1, East 2 and Central 1 Districts, were registered for the exercise, adding that the screening was aimed at detecting undiagnosed cases of hypertension, diabetes and hepatitis B.
Okoh added that medical consultations would be done for new and old medical cases, while referrals would be made to government hospitals, for persons with chronic ailments.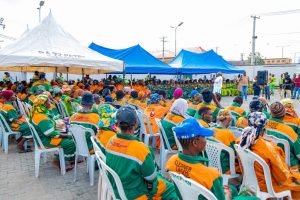 One of the beneficiaries, Mrs. Oriade Aleshinloye, noted that the exercise would go a long way in helping the sweepers manage their health, while appreciating the Authority for paying attention to their health and welfare.
Another beneficiary, Mrs. Monsurat Alabi, urged the government to continue to care for sweepers, because of job hazards, while Mr. John Joseph, called on the Authority to organise more of the health outreach engagement.
The health checkup for LAWMA's sanitation workers will be conducted in all the districts, covering five divisions of the state.