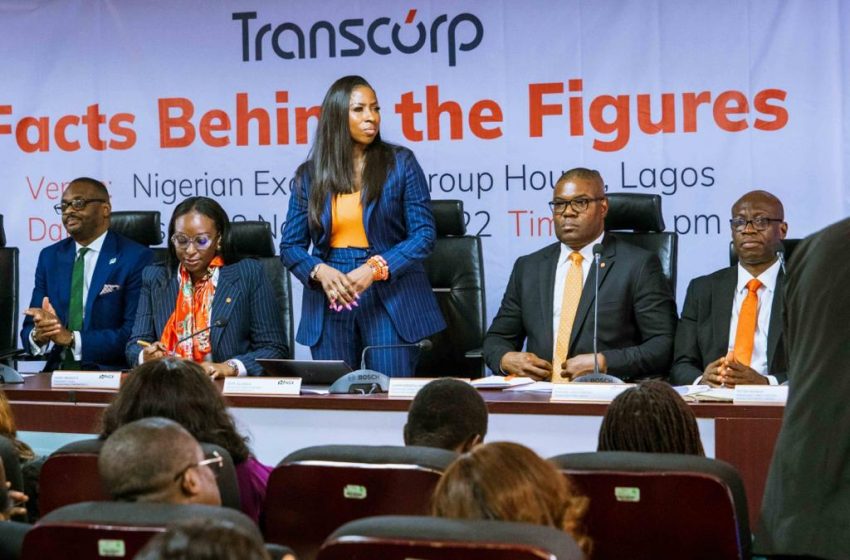 Transcorp Hotels Highlights Key Achievements as Group Management Beats Closing Gong at NGX
ALIMOTU SHADIAT
Dupe Olusola, Managing Director/CEO of Transcorp Hotels Plc on Tuesday, November 8, 2022, joined the President of Transcorp Group Owen Omogiafo, and other CEOs within the Group to ring the closing gong at the Nigerian Exchange (NGX) Ltd.

The Closing Gong Ceremony signifies the close of trading and it is a symbolic act used to highlight notable events, people, and organisations.
Following the closing gong ceremony, Mrs. Olusola joined other CEOs to present the "Facts Behind the Figures" to the investor community and other stakeholders.
According to her, the leading hospitality brand recorded double-digit revenue growth in Q3 2022. Occupancy also improved from 62 percent to 78 percent. The company reported revenue growth of 55 percent to close Q3 at N22.7 billion and grew Profit after Tax by 206 percent over the previous year, closing Q3 2022 at N2.3 billion.
"Amidst the current economic situation; inflation, forex volatilities, and insecurities, we have ensured maximum efficiency by continuing to sweat our existing assets to achieve maximum revenue and driving aggressive growth in leisure and staycations, whilst focusing on our key business segments," Mrs. Olusola said, adding that "Customer Experience remains a key focus for us.
We listen and are in tune with customer preferences and this keeps us on top."
The NGX-listed hospitality company said it is expanding strategically, especially through its asset-light play which led to the recent launch of Aura by Transcorp Hotels, an online platform for booking homes, hotels, and experiences. Through Aura by Transcorp Hotels, the company now has more than 5,000 rooms under management.

The award-winning brand is also working to extend its luxurious hospitality to Lagos, with work commencing on a 315-key 5-star hotel in Ikoyi, Lagos. Transcorp Hotels is also set to launch a new world-class convention centre at the premises of its flagship property Transcorp Hilton Abuja.
Also speaking, Temi Popoola, Chief Executive Officer, NGX stressed that the NGX values the Transcorp relationship, and is proud of its well-planned and diverse growth. He also noted that the evolution of Transcorp has been very impressive, adding that the company's leadership shows a great understanding of the role the capital market plays as an enabler for growth.
"Investors invest in companies they see visibility, transparency, and great performance," Mr. Popoola said, adding, "In these trying times, the NGX is happy to see what Transcorp is doing".
About Transcorp Hotels
Transcorp Hotels Plc is one of Africa's leading hospitality brands, committed to redefining hospitality in Africa through innovation and exceptional service.
The company is the hospitality subsidiary of Transnational Corporation, one of Nigeria's largest conglomerates. Its brands include Transcorp Hilton Abuja, Transcorp Hotels Calabar, and Aura by Transcorp Hotels.
Visit transcorphotels.com for more information.