Why We Are Giving Discounts To Guests Of Maris Schools – Kpokonor
Why We Are Giving Discounts To Guests Of Maris Schools – Kpokonor
ALIMOTU SHADIAT
The President, Havana Royal Garden Hotels, Okpanam, Delta State, Comrade Friday Okonkwo, has said that his hotel, Havana Royal Garden Hotels, is giving discounts on its rooms to guests of Maris Schools.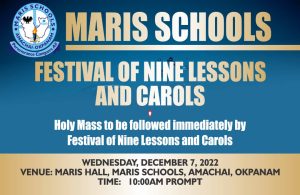 Comrade Okonkwo, who is popularly known as Kpokonor, on Tuesday, stated that he will support anything that will positively impact on Okpanam community and that activities of Maris Schools always attract human and vehicular traffic to Okpanam.
"We have rooms of different sizes but for every person who is attending Maris Schools' Festival of Nine Lessons and Carols, we shall give great discount.
"The management of Maris Schools may not know it, but our people are happy that Prince Ned Nwoko is attending the ceremony in person with his wife, Regina Daniels; during the PDP campaign, our people were disappointed when demands of politics made them not to be at the rally at Okpanam.
"We hope to thank God on Wednesday and we look forward to seeing Chief Onyeme, Prince Nwoko, Rt. Hon. Elumelu, Chief Obielum and others attending the Holy Mass and Christmas Carols of Maris Schools."
Already the Odogwu Adi Ebuo of Amai Kingdom, Chief Dele Omenogor, has said that he will not miss the event.
"Miss what? I was at Maris Lectures and Chief Onyeme, the Deputy Governorship candidate of the PDP is my brother, so, I will join Maris Schools to thank God; yes, we have different reasons as individuals to thank God, it is good to thank God.
"This Festival of Nine Lessons and Carols is providing opportunity for us to thank God for the success of the PDP campaign, that is for us the politicians, and we thank the school for providing the platform," Chief Omenogor said.
Comrade Egugbo disclosed that people have started arriving Asaba to enable them be at Maris Hall for the Holy Mass billed for 10 am on Wednesday, December 7, 2022.
Egugbo said, "God gives the initiatives, provides the means and presents the people to sing His praises.
"Festival of Nine Lessons and Carols is an annual event of Maris Schools, even during the Covid-19 era, the Festival was held because He ordained it.
"For this year's edition, we give Him thanks for the positive reactions; with the ongoing campaign by candidates for elective positions, there is every likelihood that the political gladiators will storm the event with their followers, we rely on Him and let His will be done.
"Lady Crystal Ude who runs the NGO, Crystal Hope Foundation For The Needy and a strong financier of Atiku Crystal Initiatives Support Group entered town this afternoon and we are expecting more persons this evening," Egugbo said.