Management and staff of the NCDMB and officials of the Bureau of Public Service Reforms (BPSR), after presenting the Self-assessment Tool (SAT) to the Board, in Yenagoa on Wednesday.
NCDMB Begins Year 2023 with Platinum Level Ranking
NCDMB Begins Year 2023 with Platinum Level Ranking
ALIMOTU SHADIAT
Higher and higher soars the Nigerian Content Development and Monitoring Board (NCDMB) as it shatters the records again, emerging "a Level 5 Platinum Level organization" in a summary report of the Bureau of Public Service Reforms (BPSR) Self-assessment Tool (SAT) released in Yenagoa on Wednesday.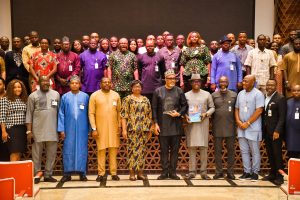 According to the Federal Government Bureau, the rating translates as "Exceptional Performance with a performance level of 90.5%."
In September 2022 the Board was adjudged the best among Ministries, Departments, and Agencies (MDAs) in the Executive Order (EO1) performance ranking for Ease of Doing Business for January to June 2022. After that ranking by the Presidential Enabling Business Environment Council (PEBEC), NCDMB's Executive Secretary, Engr. Simbi Kesiye Wabote, was conferred with the "Distinguished Capacity Development Award" by President Muhammadu Buhari in October.
BPSR, at a presentation ceremony at the NCDMB Conference in Yenagoa, Bayelsa State noted that NCDMB is structured to achieve its vision, mission and strategic objectives, which have been effectively communicated to relevant stakeholders and well understood by staff.
Continuing in what it terms "validated assessment and in-depth analysis of processes and practices of the agency," the Bureau reported that "NCDMB has adopted robust financial and accounting policies that comply with financial regulations and are clearly reviewed to ensure efficient and reliable financial reporting, such as e-payment for all transactions – supplies, contracts, salaries and entitlements of staff."
On the Board's 'Key Areas of Weakness,' the Bureau said among other things that "The Governing Board has not ensured the establishment of an anti-corruption policy with an entrenched whistle-blower mechanism for NCDMB," and that "The organisation's strategic plans did not incorporate generation of additional financial resources with mechanisms to ensure transparent management and reporting on performance such resources."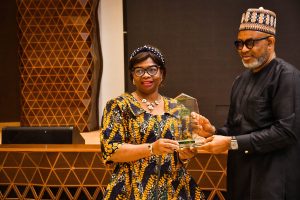 To underscore its conviction that NCDMB would strive for higher levels of performance beyond its Level 5 Platinum ranking, the Bureau recommends that the Board "Develop formal code of conduct defining standards of behavior to which individual Governing Board members of NCDMB subscribe and adhere.'
Also, that "The procurement staff are encouraged to sign an affidavit regarding their commitment not to engage in practices involving conflict of interests to improve compliance with the provisions of PPA 2007 [Public Procurement Act, 2007."
Presenting the report, the Director General, BPSR, Dr. Dasuki Arabi, hinted that NCDMB is the first agency under the Ministry of Petroleum Resources that submitted itself willingly to undergo the assessment since the Bureau was mandated to deploy the tool in all federal ministries, departments and agencies.
Represented by the Head, Strategy, Innovation and Research, BPSR, Mrs. Mercy Okon, the Director General confirmed that the assessment was free from any influences and recommended the Board work with the Bureau to deepen reforms.
In his closing remarks on behalf of NCDMB Management, Director of Monitoring and Evaluation, Mr. Akintunde Adelana, thanked the BPSR, particularly its Director General for the painstaking assessment exercise and assured that the exceptional grade achieved by NCDMB would spur its staff to even do better. Noting that "Getting a Platinum Level award is no mean feat,"
he promised that recommendations made by the BPSR would be carefully studied and implemented for even greater results.