Two Nigerian Startups Win $300,000 At LEAP's Rocket Fuel Pitch Competition in Riyadh
ALIMOTU SHADIAT
It was a proud moment of excitement for the Nigerian delegation, led by Minister of Communications and Digital Economy, Professor Isa Ali Ibrahim (Pantami), accompanied by Director General of NITDA, Kashifu Inuwa CEIE, Executive Vice Chairman, Nigerian Communication Commission, Prof.Umar Garba Danbattaamd Managing Director, Nigerian Communication Satellite, Engr. Tukur Muhammad Funtua, that participated at the 2nd edition of the LEAP Technology Exhibition in Riyadh, Saudi Arabia, as two Nigerian startups emerged winners in different categories at the Rocket Fuel Pitch Competition, and are coming home with a combined total prize of $300,000 (Three Hundred Thousand Dollars).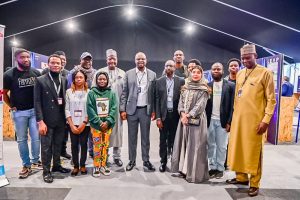 Over 10,000 Startups submitted applications from different countries. After rigorous scrutiny, the applicants were down to 220, and only 90 startups were selected to pitch their business ideas in the semi-final.
Eight Nigerian Startups participated at the semi-final, and three reached the final stage.
RiceAfrika Technologies – is a tech-driven agric optimisation startup that deploys IoT-enabled harvester and its FARMEasy mobile app for smallholder farming communities in Africa. RiceAfrika believes Africa can feed itself and feed the world. It emerged as the global best in 'The Tech for Humanity Award' category and is coming home with 150,000 dollars.
While Wicrypt – An innovative Tech startup decentralising internet globally. The startup has a custom OS and hardware that allows users to share data with people around them and charge an affordable rate also won 150,000 dollars after he was announced as the global best in the 'The Into New World Award' category.
Professor Pantami leader of Nigerian delegation expressed his delight while maintaining that Nigerian Startups have all it takes to compete with their peers in the global stage.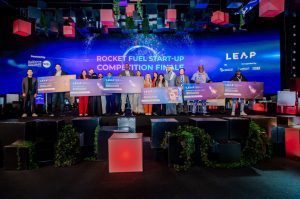 "I am so proud of our Startups who emerged as the global best in these categories. It is quite a long journey that followed rigorous process until the end; from over 10,000 applications to the final 12, in which three Nigerians took part and two emerged winners.
We are delighted that our startups are not only amazing but went through a lot of nurturing and mentorship to be the best in the world," he noted.
The Minister stated that Nigeria is on the right track in implementing its National Digital Economy Policy and Strategies to ensure that Nigerian Startups add value to the global tech ecosystem.
We are building the ecosystem and making it more conducive for nurturing innovation-driven enterprises.
Our startups are creating solutions for the local market that can easily scale to the global market.
"The journey started in 2019 shortly after President Muhammadu Buhari unveiled the National Digital Economy Policy and Strategy (NDEPS) for Digital Nigeria.
Now we are reaping the positive benefits of our commitment.
In the space of five months, we have Nigerians that are making us proud on the global stage.
"The eight entries from Nigeria competed with over 90 Startups in the semi-finals, showcasing their innovative ideas that will transform economies and solve pertinent issues around the world. Therefore, they emerged global best.
They did not only pitch to win grants but also attended various knowledge-sharing sessions, conferences and investor meetings that have exposed them to numerous ways to accelerate their products for the best market fit.
The startups intracted with the world's best mentors, angel investors and venture capitalists."
"It is also noteworthy that eight Startups we brought to this year's LEAP, three made it the Grand Finale, two won, and are going back home to add value to our Digital Economy.
On behalf of the Nigerian government, we sincerely appreciate the Digital Cooperation Organization (DCO) Headquarters, Riyadh, for sponsoring our innovative startups to participate and showcase their innovations to the world", he added.
Prof. Pantami also said that the successes of Nigerian Startups in GITEX, Dubai, United Arab Emirates in October last year, and today in Riyadh, Saudi Arabia, is evident that the country's innovators have accepted the challenge posed to them by the Federal Government to not stell as the African leaders but compute globally.
"The recent successes are the fruit of policies we put in place to ensure our Startups walk shoulder to shoulder with their counterparts in Europe, Asia and other parts of the world. Under President Muhammadu Buhari, the federal government appreciates the outstanding exploits of startups in the country, which are helping to create jobs, fast-track economic development, and also winning awards and grants amounting to millions of naira," he concluded.
This year's LEAP brought together breackthrough innovative ideas and emerging developments in technology under one roof.
A landmark technology event that galvanised public and private organisations in the Kingdom of Saudi Arabia.
Five startups were crowned as category winners, and the sixth, Plastus Biotech, ascended to victory and held the LEAP 2023 Award for the best overall startup.
All of this took place in front of seasoned judges, angel investors, tech experts and government stakeholders from around the world!The six awards divided the startup entrants by size, scale, impact on society, amount of funding, years in business, and a number of employees.
Judges for the competition include Ghazal Alagh, Co-founder, of Mamaearth and Judge, Shark Tank India, Baroness Karren Brady CBE, Vice Chairman of West Ham United Football Club, James Caan CBE, entrepreneur, businessman, investor, and former Dragon on BBC's Dragons' Den, and Steven Bartlett, entrepreneur, investor, podcaster, and current Dragon on BBC's Dragons' Den.10th February 2023