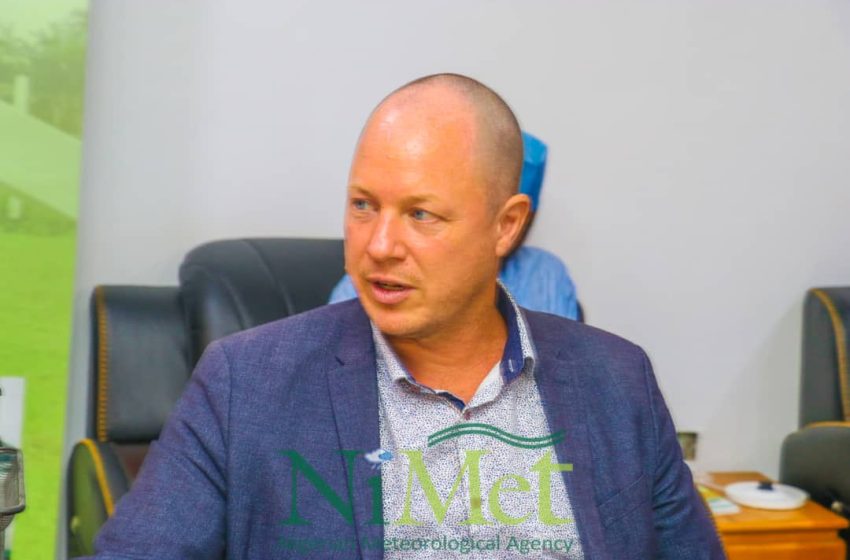 IWMI SEEKS NiMet's SUPPORT
IWMI SEEKS NiMet's SUPPORT
ALIMOTU SHADIAT
The International Water Management Institute (IWMI) has requested for support from the Nigerian Meteorological Agency, (NiMet) in the execution of a multinational project that includes Nigeria.
This was disclosed last Wednesday by Dr Sander Zwart, the Senior Researcher at IWMI, when he and his team visited the NiMet Headquarters.
Speaking, Dr Zwart said they were about to embark on a huge project called CLiM O .
" We have this project coming up , it is called the CLiM O. It is led by the German Development Cooperation (GIZ). The goal is to assist member states of the Niger Basin Authority to be more climate resilient and of course Nigeria is part of the Niger Basin".
He asserted..
Dr Zwart explained that based on the information obtained online as well as consultations they discovered that flood and drought are major challenges, especially after last year's flood.
He said this led them to develop activities that will ensure people are better prepared for flood now and in the future. To achieve this, he revealed that there are four components they have proposed for the project and that as their institution will drive the project, they are keen to have NiMet's input.
He listed these components to be Hydrological modelling; Flood forecasting; Data sharing and Underground actions that involves how people can adapt themselves to flood.
In his response, the Director Weather Forecasting Services, Engr. Mailadi Yusuf , who represented the Director General, assured the visitors of NiMet's support, adding that NiMet is in close collaboration with Federal and State Ministries of Water Resources where the lead sister Agency that develops the Annual Flood Outlook (NiHSA) for the country is resident.
He disclosed that apart from predicting water availability for farming activities ( Onset of rain, duration and amount expected ) NiMet would soon engage water users across the country on dry season (irrigation) farming activities by delivering and training them on the use of the Seasonal Climate Prediction for optimal harvest outputs.
The CLIM O project, when fully implemented will support the member states of the Niger Basin Authority in strengthening transboundary governance of water resources, adaptation,and mitigation of the impact of climate change.
The IWMI will lead the design and implementation of the project in the Benue River Basin.