NIDCOM, GROUP SEEK TO PROTECT DIASPORA DIRECT INVESTMENT
NIDCOM, GROUP SEEK TO PROTECT DIASPORA DIRECT
ALIMOTU SHADIAT
Mr Wale-Smatt Oyerinde, the Director-General, Nigeria Employment and Consultative Association (NECA) has reiterated the need for a shift in consumption of remittances from Social safety to Investment.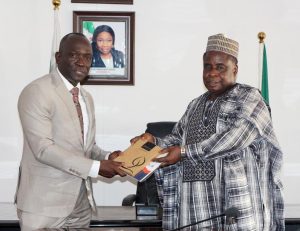 This statement was made during a courtesy visit to the Management of Nigerians in Diaspora Commission (NiDCOM) in Abuja.
According to him, stakeholders from Private and Public Bodies and Agencies need to come together and create a regulatory environment that can protect the interests and investments of the Diaspora.
Oyerinde, who described Nigeria as not just a destination but a transit and investment hub, added that Nigeria can be developed from Giant of Africa to a Global Investment Giant if all sectors come together to provide a thriving environment for investments.

"NECA as a voice of businesses and a platform for employers to engage is ready to work with NiDCOM to ensure security of Diaspora Direct Investment through opportunities to positively influence policy making at sectoral and national levels." Oyerinde assures.
Engr.(Dr) Sule Yakubu Bassi, Secretary to the Commission, who received the delegation on behalf of Hon. Abike Dabiri-Erewa, the Chairman/CEO, NiDCOM commended the Management of NECA for the valuable initiative.
Bassi described the initiative to be inline with the mandate of the Commission as NiDCOM, since inception, has been developing programmes and structures to ensure sustainable engagement of the Diaspora.
These include, the recent establishment of the Nigerian Diaspora Insurance Trustfund (NDITF), The Nigerian Diaspora Housing Fund (NDHF), The annual National Diaspora Day Celebration (NDD), The annual Nigeria Diaspora Investment Summit (NDIS), and the data mapping portal amongst others.
NECA has over 4000 members on board from all sectors of the economy. INVESTMENT