NCDMB Partners Women Engineers on STEM Education For Girls
NCDMB Partners Women Engineers on STEM Education For Girls
ALIMOTU SHADIAT
The Nigerian Content Development and Monitoring Board (NCDMB) has partnered the Association of Professional Women Engineers of Nigeria (APWEN) towards promoting Science, Technology, Engineering and Mathematics (STEM) curricula in secondary schools across the country, with special targets for the girl child.
The partnership with the association was launched recently at St. Jude's Girls Secondary School in Yenagoa, Bayelsa State, with the "STEMitout4girls" campaign, with the theme: Interest and Proficiency in STEM.
In his keynote address, the Executive Secretary, NCDMB, Engr. Simbi Kesiye Wabote, represented by the Deputy Manager, Capacity Building Division, Engr. Mofe Megbele expressed the Board's readiness to collaborate with the association in accomplishing programmes and policies geared to promote capacity development for the female gender.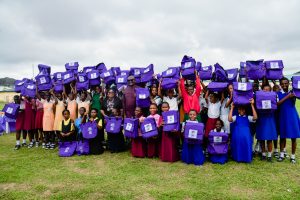 He quoted Section 70 (n) of the Nigerian Oil and Gas Industry Content Development (NOGICD) Act, which provides for the Board to conduct workshops and trainings aimed at advancing the development of Nigerian Content.
He emphasized that "there is no local content without Human Capacity Development and there has been significant growth achieved through the implementation of the 10-year strategic roadmaps for the oil and gas industry to accelerate the attainment of 70 percent Nigerian Content by 2027.
He also stated that the importance of educating girls in the society cannot be overemphasized, noting that the country can only advance based on the quality of well-educated young girls.
He added that an educated girl child can confront the issues facing humanities in the 21st century such as peace and security, climate change, sustainable development, food production, environmental issues.
While commending the Association, the Executive Secretary assured that the Board will continue to support, monitor, and evaluate the growth and performances of the female students benefitting from the STEM programme and competition.
"I expect the students to fully apply the knowledge gained from this training to improve their performances in future examinations and competitions".
"One short way to underpin sustainable development is to entrench quality STEM education in our girls, armed with a quality education, these girls can aspire to be whatever they want to be in the near future", he added.
Also speaking, the President, APWEN, Engr. Elizabeth Jumoke Eterigho disclosed that the training is targeted at increasing awareness on engineering as a suitable career for girls, to improve the numerical strength of female engineers in Nigeria, adding that it also provides the girl child with the knowledge and skills needed to succeed in the rapidly changing world.
She admitted that there are difficulties in accessing quality learning opportunities in STEM subjects, which is why the engineering and science sectors seem to be dominated by the male gender.
"Our educational system has allowed gender divides to be perpetuated and to disproportionally affect the most marginalized girls," she regretted.
She commended the NCDMB for the partnership and presented the "Diversity Champion Award" to the Executive Secretary for his untiring efforts to promote and empower the girl child.