NSCDC ANTI-FRAUD UNIT STRENGTHENS PARTNERSHIP WITH EFCC.
NSCDC ANTI-FRAUD UNIT STRENGTHENS PARTNERSHIP WITH EFCC.
ALIMOTU SHADIAT
The Nigeria Security and Civil Defence Corps (NSCDC) is set to strengthen the bond of synergy and collaboration between the Corps and the Economic and Financial Crimes Commission (EFCC) in handling fraud-related cases and other financial crimes.
This was brought to the fore during a courtesy visit by the NSCDC Anti-fraud unit to the EFCC Headquarters in Abuja.
The Head of the NSCDC Anti-Fraud unit, DCC Victory Emeribe who led the delegation, expressed delight at the warm reception accorded the team, stating that, the visit will help to expand the frontiers of effective service delivery through efficient collaboration, joint training and manpower development.
"We are here at the instance of the Commandant General on a working visit to cement the existing relationship between the two organisations and to seek new grounds for effective synergy.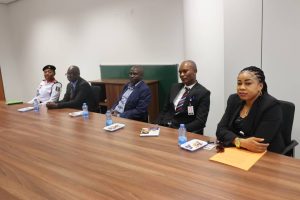 "The visit also provides an opportunity to discuss further on our upcoming Orientation and Induction of Anti-Fraud Unit personnel nationwide, in which the EFCC would be playing a major role," she said.
Victory averred that the Commandant General of NSCDC, Dr. Ahmed Abubakar Audi, mni, OFR, has zero tolerance for corruption, fraud, financial crimes and other financial misconduct which hitherto led to successful investigation and prosecution of a number of cases bothering on job racketeering, fraud and other financial crimes within and outside the Corps by the unit.
She hinted that the Anti-Fraud Unit of the Corps was established over a decade ago as a watchdog to checkmate any act leading to financial embarrassment by personnel, sanitize the Corps of all fraud-related activities and assist members of the public in resolving cases of fraud brought to its attention.
According to her, the CG has approved series of training, seminars and workshops for personnel nationwide to reposition the unit for enhanced performance and productivity.
The EFCC Head of Operations who received the NSCDC delegation on behalf of the Commission acknowledged the robust partnership between EFCC and the Corps over the years, promising to bridge any identified gap for an improved relationship.
Represented by the Head of Advance Fee Fraud Section, ACE II Aishatu Idris, the Head of Operations, pledged the commission's continuous support to the Corps in training, investigation and prosecution of financial crimes, as they have also received several petitions bothering on job racketeering from the public.
She urged the Corps to constantly embark on public enlightenment campaigns to remind the general public that there is no job for money in the NSCDC urging them to follow strictly employment procedures.
She advised the Corps to as a way of a deterrent to others, publish the names of anyone tried, convicted or dismissed for employment racketeering, assuring of the Commission's readiness to support and assist the Corps where necessary in the pursuit of its mandates.