DABIRI-EREWA COMMENDS NIGERIA-DOMINICAN REPUBLIC BUSINESS EXCHANGE
ALIMOTU SHADIAT
Hon. Abike Dabiri-Erewa, Chairman/CEO Nigerians in Diaspora Commission (NiDCOM) has called on Nigerians in the Dominican Republic to register on the NiDCOM Diaspora Portal (Database) to benefit from the Diaspora Housing Projects set up by the Federal Mortgage Bank of Nigeria as well as other packages.
This was stated during a courtesy visit of the Nigeria- Dominican Republic Business Exchange (NIDOR-BEX) in Abuja.
The NiDCOM Boss expressed her gratitude to the delegation for the opportunity to represent Nigeria at this important event as a Guest Speaker, on the topic: *"Overwhelming Evidence of the Impact Nigerians in Diaspora and the Need for Synergy in their Country of Residence"*.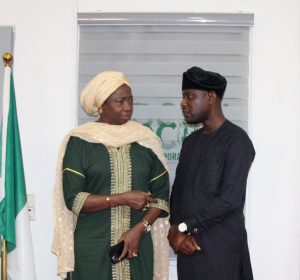 According to her "this is a good moment to promote Nigeria's Economy through business with the Dominican Republic by building bridges across the world ".
Dabiri-Erewa concluded that a team will be ready to assist in whatever capacity as the date for the Pre-Conference Dialogue is still tentative.
Earlier on, Dr. Kletsaint Akor, Chief Executive, Proponent Council NIDOR-BEX, extended an invitation to the Chairman/CEO, NiDCOM to be the Guest Speaker at the Nigeria Dominica Republic Business Exchange Pre-Conference Dialogue.
Dr. Akor who led a delegation of members of NIDOR-BEX, deemed it fit to have the NiDCOM Chairman as a Guest Speaker.
This is according to the Organization's recognition of Dabiri-Erewa's selfless leadership to a better engagement between Nigeria and its Diaspora.
He explained that NIDOR-BEX is a bi-national business instrument administered in collaboration with the Nigerian and Dominican Republic Governments.
The NIDOR-BEX lead added that the corporate goal of the establishment is to promote the development of trade and investments between the Federal Republic of Nigeria and Dominican Republic.
He included that the NIDOR-BEX initiative is administered by its Proponent Council, Save the Future of the African Child, Nigeria Humanitarian Action and Da Soul Media in partnership with the Federal Ministry of Industry, Trade and Investment, the Federal Ministry of Foreign Affairs with the Nigerian High Commission in Jamaica.
Dr. Akor stated that the Pre-Conference Dialogue is a lead event to the NIDOR-BEX Multilateral Conference Series. It is solely convened to familiarize stakeholders with the bi-national trade concept between Nigeria and Dominican Republic.