From left: Asst. Marketing Manager of Rite Foods, Mrs. Adebola Adeyinka; Asst. Brand Manager of Bigi Drinks, Ms. Biola Aransiola; Managing Director of Rite Foods, Mr. Seleem Adegunwa; and Bigi Consumers during Children's Day Celebration at Ikeja City Mall, Alausa, Lagos on Saturday 27th, 2023.
Drum rolls as Bigi and Sosa Fruit Drink of Rite Foods Share exciting moments with Children in Lagos
For Every Moment: Bigi, Sosa Fruit Drink of Rite Foods Takes Children's Day Celebration Personal with Unique Activities
ALIMOTU SHADIAT
In a bid to indorse its mantra – For Every Moment, Bigi and Sosa fruit drink of Rite Foods Limited, Nigeria's leading food and beverages company have pleasingly organized fun-filled activities for the exhilaration of numerous children at the Ikeja City Mall, Alausa, Lagos, to mark this year's Children's Day celebration.
Celebrated every May 27, Children's Day in Nigeria is conceived to promote togetherness, the rights of children, bonding, and self-awareness among them. It is also to improve their welfare in order to break limits as they truly move towards becoming future leaders of tomorrow.
To help make the diurnal extra memorable, Bigi drinks availed its 13 variants of carbonated soft drinks (CSD), Sosa fruit drinks with five (5) flavors, Rite Spicy, Bigi Beef, and Rite Sausages, for the children while presenting choices of activities based on the predilection of the younger consumers of the products.
The Children's Day event as designed by the brands was a 2-day (Saturday-Sunday) free affair for kids at the venue and it featured a diversity of activities, including face painting, games, crafts, and a handshake with a mascot.
Aside from the children catching fun and winning prizes through castle building, puzzles, circle throwing, and filling the pegs just to mention a few, some families also whisked away amazing rewards.
With a live band, the celebration kicked off at dawn, entertaining the children, parents, and guardians with quality music delivery as the first set of winners went home with branded headsets, water bottles, studying, as well as writing materials, and other exciting gifts. A 9-year-old and a Bigi Orange fan, Oguniyi Tunmininu, currently in basic five, after winning said she loves the drink because that is the only soft drink her parents always buy for her and the taste is really good.
Speaking at the event, Ms. Biola Aransiola, Assistant Manager of Bigi Drink, said the event is a great opportunity for children to connect with the brand handlers, unwind and have fun while they get rewards. "As a consumer-oriented brand, we are always there for our consumers at every moment because we believe in their dreams, vision, and aspirations, thereby justifying our weight behind this year's celebration." She further added that it's not a new thing with the brand "Bigi is known for excitement, and fun and has been doing this for quite some years, giving the kids distinct treats to make them feel special in a time like this".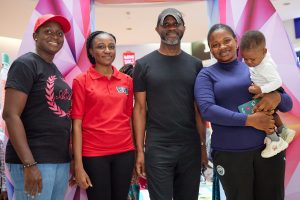 On her part, Mrs. Adebola Adeyinka, Assistant Marketing Manager, Rite Foods Limited, said the company is committed to giving back to the community, most especially on special occasions like this because it shows the significance of love the firm has for its consumers. "We are electrified to sponsor the Children's Day event as we believe that it is imperative to support and give back to the children in our range. Emphatically, we are enthusiastic to see the undiluted smiles on their faces after having much fun." She said.
Also speaking, after participating and winning a family game challenge, the family of Mr. and Mrs. Olarinde wholeheartedly express thanks to Rite Foods for producing quality Bigi carbonated soft drinks and Sosa fruit drinks with unique variants to choose from. Likewise having the consumers in mind and demonstrating it through events like this which gives a memorable moment.