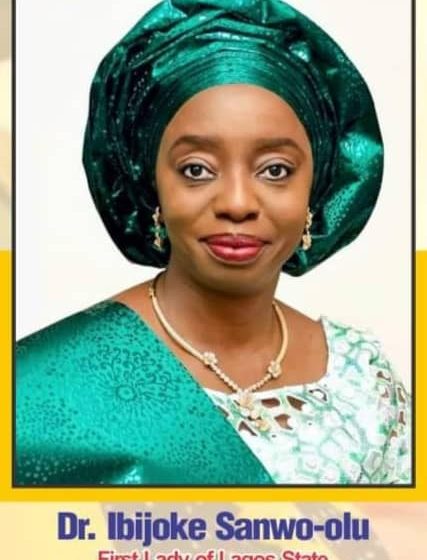 SANWO-OLU'S WIFE LAUNCHES INITIATIVE FOR MULTIPLE BIRTH MOTHERS   
Presents N1.75m, baby materials to first set of beneficiaries
ALIMOTU SHADIAT
The wife of the Lagos State Governor, Dr. Ibijoke Sanwo-Olu, has unveiled a multiple birth assistance programme, known as Jumejilo Multi-birth Assistance Programme (JMAP) for indigent mothers in the state.
Speaking at the launch of the Jumejilo (more than two) and the presentation of support materials to the first set of beneficiaries, held at the Office of the First Lady, Alausa Ikeja, Dr. Sanwo-Olu disclosed that the social health initiative which would support parents with multiple births from triplets and above from pregnancy till two years was conceived to complement already existing government programmes.
Dr. Sanwo-Olu said the programme, which will run in partnership with the Ministries of Wealth Creation and Employment; Women Affairs and Poverty Alleviation, as well as Youth and Social Development, is targeted at low-income people, noting that the benefitting parents would be empowered with skills or financial support to boost their capacity.
She said: "As a Mother, Medical Doctor of over three decades, and First Lady, I have seen limitless cases of families with multiple births suffering untold hardship. In most cases, women and children are at the receiving end.
"Let me confess that the JMAP Programme is extremely dear to me. It is a comprehensive care initiative to expand access to quality healthcare for low-income families with multiple births and create sustainable socio-economic paths for potential beneficiaries from the gestational to the postnatal period.
"The JMAP intervention is about complementing the output of other existing initiatives and support systems in the Lagos State health sector for HOM parents. We are specifically rolling out the JMAP Programme to alleviate medical complications, mortalities, and disorders associated with multiple births, which include premature delivery, preeclampsia, and irregular foetal growth, among others.
"For me, this intervention is about putting forward pragmatic support to save lives and create a better future for all in line with the policy thrust of the administration of Mr Babajide Olusola Sanwo-Olu as highlighted in the THEMES Agenda which has now been upgraded to THEMES+ with the incorporation of an intensified focus on social inclusion, Gender Equality and Youth."
Dr. Sanwo-Olu implored like-minds, public-spirited individuals, and corporate organisations to join her in the journey to truly give hope to families that need help. "I am ready for partnership and one assurance is that this initiative will be sustained as a platform to make a positive difference in our society," she said.
Speaking earlier, the Wife of the Deputy Governor, Mrs. Oluremi Hamzat, said the programme was aimed at ensuring numerous challenges faced by beneficiaries of Jumejilo are addressed while commending Lagos State First Lady for the initiative that would be of benefit to these categories of Lagosians.
"Given the extensive evidence that twins and other multiple births worldwide are associated with a substantially higher risk of maternal and perinatal mortality and morbidity, this initiative will further strengthen the window of opportunities and would be of immense assistance to multiple birth parents", she said.
Also speaking, the Programme Manager, Mrs. Titi Oshodi, said the Jumejilo Multi-Birth Assistance Programme, though targeted at low-income earners, is not premised on financial assistance, it is also on mental and emotional education and support throughout the gestational period and birth.
To qualify, Oshodi said the pregnant woman must be resident in Lagos, with proof of address, not more than 60 years old, and must not have accessed Invitro fertilization, or IVF, while the family's annual income should not be more than N250,000.
Oshodi said the initiative targeted at new and expectant multiple-birth low social class mothers will complement and create a safe health care system for beneficiaries, which includes support, training, and free prenatal, antenatal and postnatal care to build parents emotionally, economically, and psychologically.
During the event, two families; Mr and Mrs Uwaoma Odili with quadruplet and Mr and Mrs. Tunde Ilufuoye with triplets were given N1million and N750,000 as well as baby products to support the upbringing of their children.