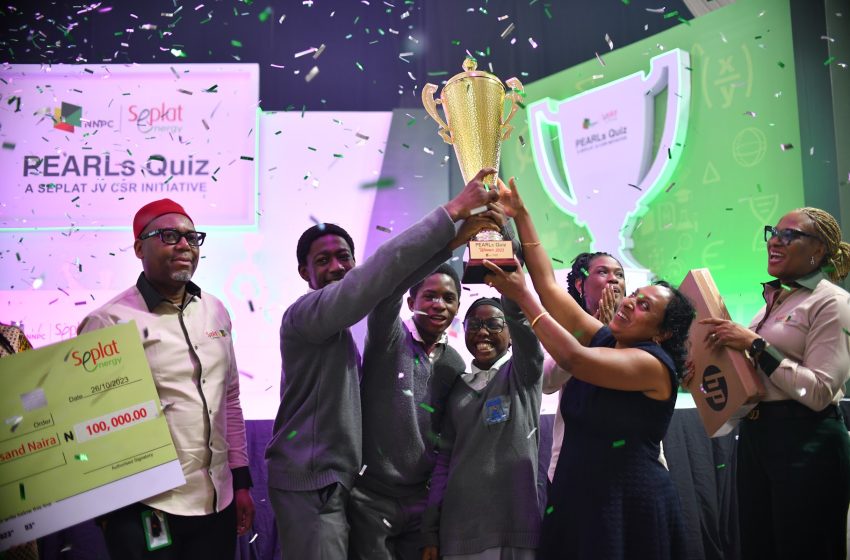 : L-R: Managing Director, Seplat West Limited, Mr. Ayodele Olatunde; winners of the 2023 Seplat Energy JV PEARLs Quiz (12th Edition), Don Bosco Science Academy, Ekpoma, Edo State; and Director, External Affairs and Sustainability, Seplat Energy, Chioma Afe, at the grand finale of the Seplat Energy JV PEARLs Quiz in Asaba, Delta State … recently
Seplat Energy JV Concludes 2023 Edition of Seplat Energy PEARLs Quiz
… Don Bosco Science Academy in Edo emerges overall winner, whilst all winning schools get project funds, scholarships
ALIMOTU SHADIAT
Seplat Energy Plc, leading Nigerian independent energy company, has concluded the 12th edition of Seplat Energy JV PEARLs Quiz, which is one of its signature educational Corporate Social Responsibility initiatives. Don Bosco Science Academy, Ekpoma, Edo State emerged winner, bagging the coveted prize of Ten Million Naira (N10m) for a project and one hundred-thousand-naira (N100,000) scholarship for each of its three partaking students.
In the 2023 edition, 510 School sat for qualifying test online while about 139 schools qualified from the online process. This year's PEARLs Quiz Competition kicked off in Benin, Edo State 10th October, 2023.
The grand finale of the programme, which was held in Asaba, Delta State, had in attendance secondary schools from Edo and Delta States, government officials, various communities from both States, media, management of the NNPC Exploration and Production Limited (NEPL), staff, management members of Seplat Energy, among others.
Our Saviour Secondary School, Sapele, Delta State; and Hollywood International School, Asaba, Delta State emerged the second and third place winners respectively. Divine Province Educational Centre, Edo State took the fourth place.
Our Saviour Secondary School was awarded a Five Million Naira (N5m) project award and seventy-five thousand-naira (N75,000) scholarship each for its three partaking students. Hollywood International School was given a prize of Three Million Naira (N3m) project award and fifty thousand naira (N50,000) scholarship for each of its three partaking students. Divine Province Educational Centre got ten thousand naira (N10,000) scholarship for each of its three partaking students
The Seplat Energy JV PEARLs Quiz is a key component of Seplat Energy's Corporate Social Responsibility (CSR) initiatives, the competition is executed in conjunction with its Joint Venture partner, the NNPC Exploration and Production Limited (NEPL). The quiz competition was keenly contested, and all qualified schools and teachers were rewarded with consolation prizes.
In her opening remarks, the Director, External Affairs and Sustainability, Seplat Energy, Chioma Afe, reaffirmed Seplat Energy's commitment to being a responsible and accountable corporate with strong advocacy for global best practice. "We have built strong relationships with our local stakeholders and created a stable operating environment in our host states by implementing programmes in healthcare, education, capacity building, youth empowerment, and infrastructural development. We are mindful of the needs in the country's education sector, our leadership role amongst our peers, and our commitment to our host communities in Edo and Delta States," she said.
Afe added: "This programme has directly impacted the performance of the students, as it encourages them to read their syllabuses intensively and extensively and participate in rigorous debates.
"Moreover, it provides a platform for both public and private secondary schools to interact, share ideas, and experiences throughout the programme. It offers far more than just winning; it helps students gain substantial experience, build confidence, and encourages them to adopt innovative techniques and develop their ideas and skills."
The Managing Director, Seplat West Limited, Mr. Ayodele Olatunde, thanked the government of Edo and Delta states for their unwavering support over the years, which have been instrumental in the level of success in the joint venture. He also extended Seplat Energy's gratitude to the NEPL and various regulatory agencies in Edo and Delta.
"The initiative we gather to celebrate today is unique, and remains a true embodiment of corporate social responsibility. It's about using this initiative to promote and reward academic excellence among secondary schools in our host states. It is more than just academic achievements; it's about fostering values, principles, and a sense of purpose in our young talents."
At the event, the Seplat Women's Awesome Network (SWAN) and the Seplat Young Professionals (YP) Network were on ground to provide guidance and advisory through mentorship and health care sessions. Various schools also exhibited various developmental projects that are science and art-based. The projects were assessed and outstanding schools were recognised and rewarded also.
In his remarks, a representative of NEPL, Mr. Oluwaseyi Orimoloye, said that the laudable event will foster healthy educational competition among students, adding that: "It is a rare opportunity intended to broaden students' horizons while exposing them to a broader knowledge base. It is an invaluable part of our academic journey."
He urged teachers to keep molding credible and world-class leaders, saying that Nigeria needs to invest aggressively in producing the best in term of human capital.
The Delta State Commissioner for Secondary and Basic Education, Rose Ezenwu, said education is a powerful tool that can transform societies socially, politically, economically, and technologically. "It is the magic wand that can uplift communities, and it remains the key to progress. This administration is fully committed to providing quality education for our young learners."
The Secretary to the Delta State Government, Dr. Kingsley Emu, who represented the Governor Rt. Hon Sheriff Oborevwori, said: "I was deeply impressed by the commitment and dedication it takes to have 139 students qualify out of over 510 participants. This achievement reflects an extraordinary amount of energy, an intricate set of processes, and an unwavering attention to detail.
This is for Edo and Delta indeed, but I see something even more promising here. The boldness, eloquence, and confidence displayed by the participants in this quiz competition showcase the potential that such events unlock in our youth. Indeed, this is the future of Nigeria. I would like to express my heartfelt gratitude to Seplat Energy and NEPL for their unwavering commitment to initiatives like this. "
The Seplat Energy JV PEARLs Quiz is implemented in two stages, the test stage and the competition stage. The test stage is where all schools take qualifying tests whilst the competition stage is where all qualified schools go head-to-head, and losers are eliminated until a champion emerges for the year.
All qualified schools from the test stage go home with Seplat branded laptop bags, exercise books and T-shirts. The qualification test is done online with Seplat providing data for all entrants. Seplat Energy PEARLs quiz addresses UN Sustainability Development Goal 4 for quality education by ensuring inclusive and equitable quality education for both public and private schools in Edo and Delta states, thus helping to promote lifelong learning opportunities for teeming youth population.